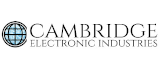 Cambridge Electronic Industries Ltd. is a leading UK designer and manufacturer of connectors, cable assemblies, baluns, fibre optics, panels and enclosures. Established in 1983, we supply our products world-wide to major OEMs, manufacturers, system builders, installers and resellers.
We are driven by our customers' needs and requirements. Our experience, knowledge and skills are at the service of our customers to provide, in partnership, interconnection solutions built to the highest standards of workmanship.
Please contact our sales office now to find out how we can meet your particular interconnection requirements. We have three operating divisions, each with its own product and industry specialisation: -
Cambridge Connectors division, established in 1983, produces electronic connectors including: RF Coaxial, D Subminiature, Edgecard, DIN 41612 and Modular.
System Connections division, established in 1988, produces custom cable assemblies; fibre optic products; custom sub-assemblies, panels and enclosures.
Network Products division, established in 1995, produces Baluns (impedance matching devices) for telecom and data networks.